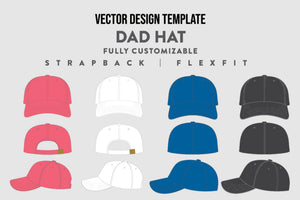 Ultimate Hat Template - Dad Hat
Sale price Price $15.00 Regular price
Dad Hat - Vector Design Templet
Dad Hat Design Flats
12 Pre made common Hat styles and Colors
Strap-back and Flexfit Style
Fully Customizable
Watch our video on how to use the template:https://www.youtube.com/watch?v=iiYy6RHCGzw These temples are meant to be used with Adobe Illustrator for customizing real-world hat builds for your own needs. The files come with pre-made colors and designs for you to use and a to-scale version with color call-outs and artwork placement areas for patches and embellishments. Use these templates to create designs of hats you could then send off to be manufactured.
To use the hat templates I recommend setting the Eyedropper tool (i) only to affect fills/ To do this double click on the eyedropper icon and check to fill only. Make sure all other attributes are unchecked. Then add the colors you would like to the Pantone callouts and then use the eyedropper to select from your Pantone and apply it to the specific element of the hat you would like.
Add patches and artwork directly on top of the hat artwork. You can scale the artwork to your desired dimensions or use the hat template to see how big to make something. Check the Transform panel to ensure your hat's width matches that of your specific blanks.